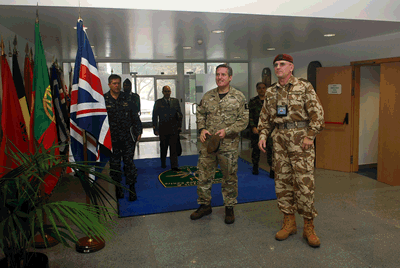 On 20 February 2014, the Chief Of Staff Supreme Allied Command Transformation honoured JALLC with a visit. Lieutenant-General Jones was accompanied by his Executive Assistant, Captain Craig Petersen, Lieutenant-Colonel Olivier Jean-Louis Olivier, from Innovation, Doctrine & Lessons Learned Branch, and Lieutenant Blade Schallenberger, Aide to COS.
Due to the arrival time, the visit started with a working lunch in the office of the Commander JALLC, Brigadier-General Mircea Mîndrescu, giving Lieutenant-General Jones a chance to meet all the members of the Command Group. After a short office call, COS SACT was provided with a Command Group Briefing. COS SACT was deeply interested in the ongoing projects, the JALLC's accomplishments, the challenges JALLC is facing and offered his support on several topics. When this briefing went over, all the JALLC Project Team Members of the "20 Years of Lessons Learned NATO Led Operations", joined the meeting room and presented the latest status of the Project and discussed the way forward.
After a short break, Lieutenant-General Jones addressed some words to all the JALLC personnel and took the chance to award Lieutenant-Colonel Matthias Fieser, DEU A, Deputy of the Exercise, Training & Experimentation Division, with a Letter of Commendation for his achievements in NATO. The visit was concluded by signing the Book of Honour, gifts exchanging and a group picture in front of the JALLC building.
To finish the stay within JALLC, Lieutenant-General Jones and his party were invited for a casual dinner in a restaurant downtown Lisbon.
---