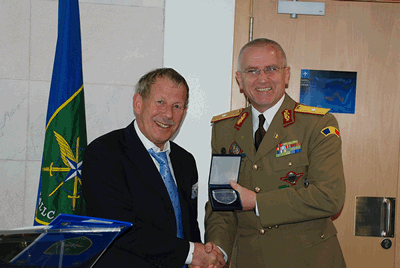 On 24 February 2014, His Excellency The Ambassador of Poland to Portugal, Mr. Bronislaw Misztal has visited the Joint Analysis & Lessons Learned Centre. After a short office call with Commander JALLC, Brigadier-General Mircea Mîndrescu, a Command Briefing was presented to His Excellency.
The Command Briefing consisted of an overview of the JALLC organisation, JALLC activities, the JALLC Programme of Work and an introduction to the NATO Lessons Learned Process. Mr Misztal was very interested in the relationship with the two other JJ, the Joint Warfare Centre in Stanvanger, Norway, and the Joint Force Training Centre in Bydgoszcz, Poland. His Excellency was informed that JALLC is not just supporting the NATO organizations but also contributing, upon request and availability, to Lessons Learned programs of individual Nations within NATO and beyond.
After the presentation, Mr Bronislaw Misztal signed the Book of Honour and a group picture was made in front of the JALLC building. The Ambassador thanked the JALLC for the short but informative session and was impressed by the quality and level of expertise in the performances of the JALLC.
---