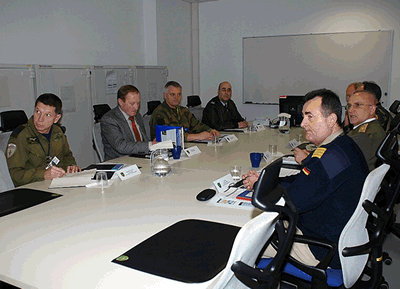 On 14 February 2014, the Commander of Joint Warfare Centre, Major-General Erhard Buehler, accompanied by his Special Advisor, Brigadier-General Jon Krogstad, visited the Joint Analysis and Lessons Learned Centre, in a short stop, during his trip to STRIKFORNATO, at Oeiras, to participate in the Battle Staff Training for the Exercise Trident Jaguar 14. Despite arriving late in the afternoon, in Lisbon, and at Commander JALLC's invitation, MGEN Buehler honoured JALLC with his presence.
Major-General Buehler was provided a short Command Briefing on the JALLC's role within NATO, the current and on-going activities, the JALLC Programme of Work and the Lessons Learned Process. During this presentation, there were a lot of issues discussed, with emphasis to the cooperation and information sharing between JWC and the JALLC, with special focuses on the exercises and training.
The visit was concluded by signing the Book of Honour and gifts exchanging, followed by a social dinner in Carcavelos, in the outskirts of Lisbon .
---