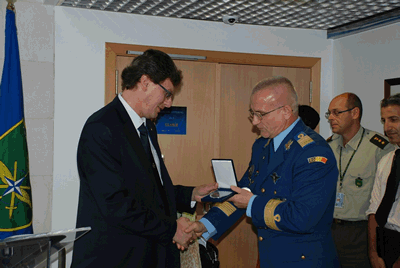 On 5 November 2013, the Chairman of the International Board of Auditors for NATO ( IBAN), Dr. Charilaos Charisis, accompanied by Mrs. Julie Taylor, Auditor for the Board, paid a visit to the Joint Analysis and Lessons Learned Centre upon their request to be received by the JALLC Commander, Colonel Mircea Mîndrescu and his staff.
The IBAN delegation was briefed on the activities within the JALLC and particularly about the Lessons Learned Database, Lessons Learned Portal and the ongoing Projects. The IBAN Chairman stated to be very impressed by the professionalism of the JALLC and its staff members. Both parties agreed to look for further common grounds for cooperation within the NATO area.
The visit ended with the traditional signature of the Book of Honour and gift changing.
---