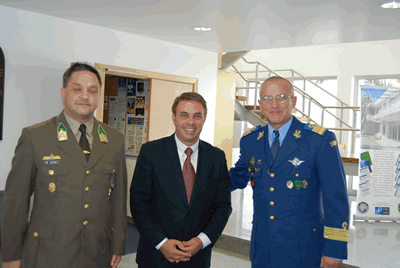 On 24 Sep 2013 His Excellency Mr. Norbert Konkoly, Ambassador of Hungary to Portugal accompanied by Col Gábor Szarka, Defence Attache from the Hungarian Embassy paid a visit to the Joint Analysis and Lessons Learned Centre upon their request to be briefed by the JALLC Commander, Col. Mircea Mîndrescu and his staff on its organization, mission and current projects.
The visit took place in a very warm and friendly atmosphere, with the Hungarian Ambassador stressing the great value of the information that was presented to him and also considering it very informative and relevant in a way that could open a door for an enhanced collaboration with this Centre.
Col. Mircea Mîndrescu was grateful for the visit and reinforced the role of this organization in support of the Alliance and the nations.
The visit ended with the traditional signature of the Book of Honour and a group picture in front of JALLC's main entrance.
---