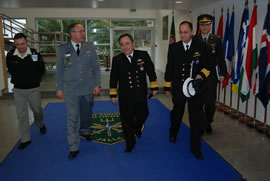 Rear Admiral Hasan Usaklioglu, the Turkish National Military Representative to SHAPE, visited the Joint Analysis and Lessons Learned Centre in Lisbon, Portugal on Monday, 14 February.
After a welcome by the Chief of Staff, Colonel João Manuel Assis Barbas, RAdm Usaklioglu was briefed on the role and capabilities of the JALLC and areas of common interest among the JALLC, the two supreme allied commands and the nations. This was his first visit to the JALLC and RAdm Usaklioglu expressed particular interest in analysis process carried out by JALLC, Analysis Requirement and Analysis Objectives relationship, the Lessons Learned process, JALLC outreach with JATT especially related with PfP Training Center in Turkey and the initiative related to contacts to universities and Center of Excellences.
On completion of the briefing and discussions, RAdm Usaklioglu signed the JALLC Book of Honor, expressed his appreciation for the visit and stressed that it had contributed significantly to his awareness of the important role of the JALLC in the NATO structure.
---