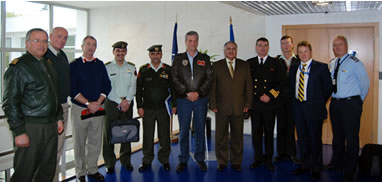 The Jordanian Armed Forces ( JAF) Center for Studies and Lessons Learned visited the Joint Analysis and Lessons Learned Centre in Lisbon, Portugal on Wednesday 01 February.

On 01 February the team consisting of Maj Gen (R) Abdel Salam HARAZNEH, Col Ezideen AL ZU'BI and Capt Mu'taz AL-SHDEFAT escorted by Cdr David Brown from Bi-SC Military Cooperation Division where welcomed by and had a office call with the Commander, Brigadier General Peter Sonneby. The purpose of the visit was to improve their Lessons Learned capability and to enable NATO and JAF to develop a roadmap to facilitate this goal. The visiting party was briefed on the role and capabilities of the JALLC, LL Portal and LL Database and JALLC support to LL Capability Development.
On completion of the briefings, Maj Gen (R) Abdel Salam HARAZNEH signed the JALLC Book of Honour and expressed his appreciation for the efforts into making the visit so informative and stated that he was looking forward to working more closely with the JALLC and explore possibilities for cooperation.
---