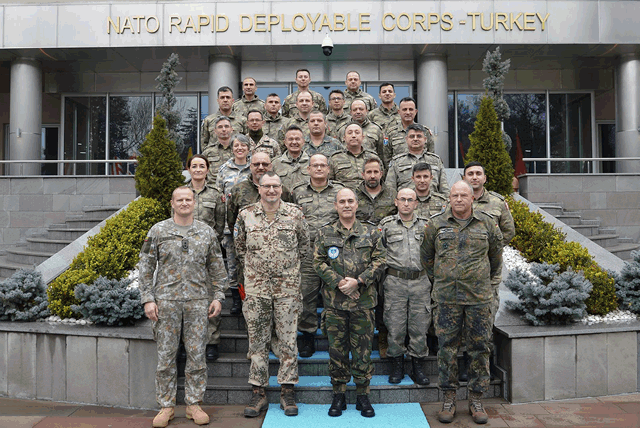 From 28 to 30 January, the JALLC's Advisory and Training Team (JATT) was in Istanbul Turkey at the NATO Rapid Deployable Corps Turkey (NRDC-T),which forms part of the NATO Force Structure (NFS) HQ. NRDCs are High Readiness Headquarters, which can be quickly dispatched to lead NATO troops on missions within or beyond the territory of NATO member states.
The corps can be deployed for a wide range of missions: from disaster management, humanitarian assistance and peace support to counter-terrorism and high-intensity war fighting. There are currently nine NRDCs, which are each capable of commanding up to 60,000 soldiers. The political authorization of the North Atlantic Council (NAC), NATO's principal political decision-making body, is required to deploy the corps. For more background information on the NRDCs, see the NATO website.
These NRDCs need to be properly trained and prepared to de deployed at short notice. This includes training on how to properly capture the valuable lessons they will come across during their mission. The JATT provided tailored training for the NRDC-T that was attended by 26 students assigned as a LL personnel and belonging to the various branches of NRDC-T under the responsibility of LTC Walter Kron, Chief of Lessons Learned for NRDC-T.
The main objective of this particular training was to provide the NRDC-T staff with an overview of the NATO LL Capability, the analysis techniques, real life examples, practical work, success stories, and to highlight some of the challenges of a using a LL management system, to ensure the staff are fully prepared to not only capture potential lessons while out in the field, but also to understand the value of sharing these lessons within NATO to ensure that the Alliance remains a learning organization and on the cutting edge of transformation.
---