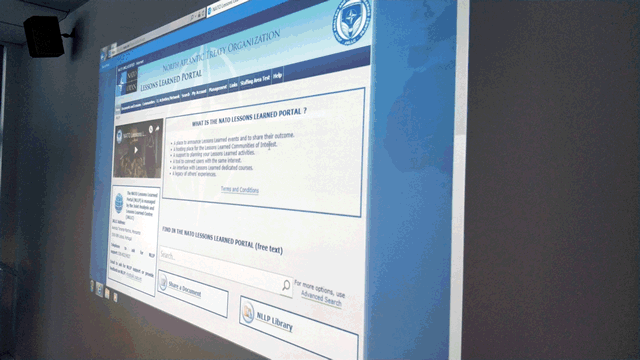 This month, the JALLC delivered two in-house training events: the NATO Lessons Learned Portal Course and the Analytical Writing Methods Training 2019 Spring Edition.
The first edition of the NATO Lessons Learned Portal (NLLP) Course took place between 20 and 22 March. The aim of this course is to introduce JALLC Staff to advanced use and knowledge of the NLLP, necessary to conduct their assigned duties. The course provides participants with hands-on experience of the procedures and skills they need to fulfil their roles as well as for participating in outreach activities and other events related to the NLLP.
The next iteration of this course is planned to take place from 04 to 08 November, and will be opened to external attendees. This event will be advertised on the NLLP in July and will require a minimum of one-year of experience as NLLP Local Manager.
We are also working together with NATO School Oberammergau to develop an "LL Management Course" at the school, which will be specifically designed for non-JALLC personnel. The intention is to have this course up and running by the fourth quarter of the year.
The Analytical Writing Methods Training 2019 Spring Edition took place on 19 and 20 March. The course provides guiding principles on how to prepare to write an analytical document, including how to organize the ideas to be presented and how to build a convincing argument. The training also provides guidance on applicable NATO writing standards and how to self-edit your own work.
Seven JALLC staff members, STRIKFORNATO's Public Affairs Staff Officer and three personnel from the Portuguese Armed Forces HQ attended this course, which was the first time it has been opened up to non-JALLC staff members. By the end of the course, the students were able to understand the Pyramid Principle, the five elements of an argument, and to apply critical thinking and self-editing techniques to their writing projects.
---