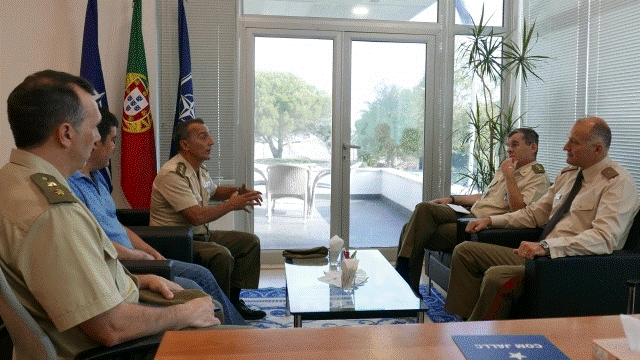 The JALLC is always ready to open its doors to visitors who want to find out more about what the organization does and how Lessons Learned contribute to the transformation of the Alliance. Over the past couple of weeks, the JALLC has received visits from three distinguished groups: the Directorate of Research, Doctrine, Organization and Materiel (DIDOM) from Spain, 50 participants on the Portuguese Air Force Senior Enlisted Course and their supervisors, and 32 participants on the Portuguese Junior Diplomatic Service Officers Course and their professors.
The JALLC has a basic tour and visit programme for its visitors which is tailored to meet each visiting group's specific interests. Our visitors might like to know more about how the NATO Lessons Learned Capability works, or perhaps how Joint Analysis contributes to the NATO Lessons Learned Process, or even how the JALLC's Advisory and Training Teams reach out to the Allies and partners across the globe. Each visit is unique and is accompanied by a team of JALLC staff assigned especially for the purpose because of their expertise or background to ensure our visitors have the most informative and enjoyable visit possible.
Visitors are invited to sign the book of honour and pictures are taken to commemorate the visit.
These recent three visits were no different and the JALLC's Command Group and staff had the pleasure of meeting and exchanging ideas and views with the visitors in presentations, discussion sessions, and office calls.
---