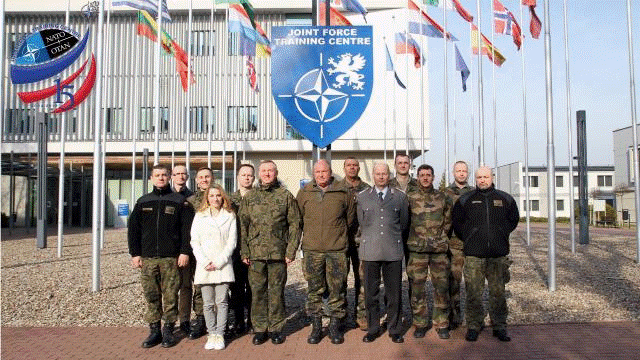 As part of NATO's Lessons Learned Engagement Plan for 2019, the JALLC Advisory and Training Team (JATT) conducted a three day Lessons Learned (LL) training course from 19 to 21 February at the Joint Force Training Centre, Bydgosz, Poland (JFTC).
The JFTC has a distinct and unique role within NATO, focusing on joint and combined training at the tactical level. Additionally, it co-operates with Allied Command Transformation, its sister organizations, national training centres, and NATO Centres of Excellence to ensure application of NATO standards and doctrine and to achieve joint tactical interoperability from Brigade to Corps level. The Centre's motto, "Transformation Through Training," reflects its mission.
The training course was attended by 11 JFTC members, from various services and with different subject matter expertise. The course's main objective was to provide the Training Audience an overview of the NATO LL Capability, the analysis techniques, real life examples, practical work, success stories and challenges of a LL management system. During the visit, the JATT also supported JFTC with the assessment of the JFTC's implementation of the NATO LL Capability.
The event was a valuable opportunity to strengthen and enlarge the LL community and network within the JFTC. It provided a common understanding on how NATO is a continuously learning organization and highlighted the benefits of lessons sharing.
---