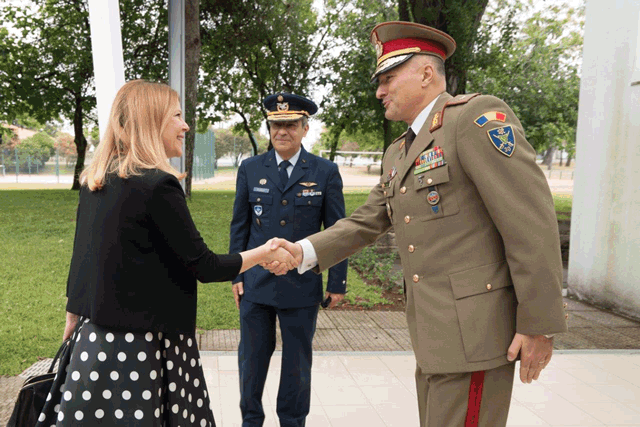 Today, 24 June 2019, the JALLC celebrated the change of command from Brigadier General (BGEN) Antonio Nascimento from the Portuguese Air Force to BGEN Bogdan Cernat from the Romanian Army. The ceremony was attended by Her Excellency, Ioana Bivolaru, the Ambassador of Romania to Portugal, the Portuguese Chief of Defence, Admiral Silva Ribeiro, the Chief of Staff of the Portuguese Army, General Jose Nunes de Fonseca, Vice Chief of Staff of the Portuguese Navy, Vice Admiral Jorge Novo Palma representing the Chief of Staff of the Portuguese Navy, the Portuguese Air Force Chief of Staff, General Nunes Borrego, and other distinguished guests as well as the JALLC staff.
During the ceremony, BGEN Nascimento reminded the audience of the achievements of the JALLC in the past year, including the consolidation of the ongoing changes in connection with the refocussing of the JALLC's mission, as well as the development of a plan to ensure incremental improvements to the NATO Lessons Learned Portal using new technology, and the importance of the Analysis Projects covering NATO-wide topics such as Building Integrity, Lessons from Trident Juncture 2018, New Technologies for Lessons Learned.
After the change of command ceremony, the JALLC's new commander, BGEN Cernat, addressed the audience noting that his first impression of the JALLC was positive and that, "We must be ready to respond to the challenges the Alliance faces and serve the Allies in the best way possible." His speech reflected the necessity to keep the JALLC flexible, responsive, and resilient in the face of the challenges the Alliance faces.
The new Commander JALLC, BGEN Bogdan Cernat, was born in Bucharest, Romania. Throughout his career BGEN Cernat has received several awards and medals, granted by various entities, including at the presidential level. His full CV is available at the JALLC official webpage.
---