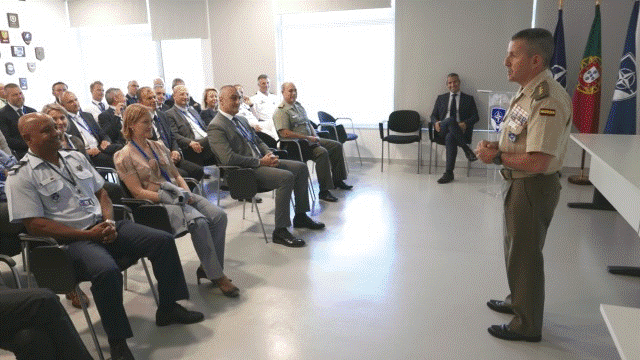 As part of a visit to Portugal, the NATO's Investment Committee (IC) visited the Joint Analysis and Lessons Learned Centre (JALLC) on Wednesday, 29 May.
The Chairperson of the Investment Committee, Mr. Francesco Romano, was welcomed by the acting JALLC Commander, Colonel Angel Santamaria. During the visit, Mr. Luca Ranise, Head of the Budget and Finance Branch, updated the IC on JALLC' s role within the Alliance as the Lead Agent for Lessons Learned and on the projects to be carried out in the near future regarding the JALLC facilities.
The NATO Investment Committee is responsible for the NATO Security Investment Programme (NSIP). The NSIP covers major construction and command and control system investments, which are beyond the national defence requirements of individual member countries. It supports the roles of the NATO Strategic Commands by providing installations and facilities such as air defence communication and information systems, military headquarters for the command structure and for deployed operations, and critical airfields, fuel systems and harbour facilities needed in support of deployed forces.
The visit was hosted by the Portuguese Ministry of Defence and included visits to the NCI Academy, Navy, and Air Force.
---