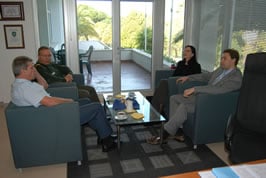 On Thursday 20 January 2011, her Excellency the Ambassador of Slovenia, Mrs. Bernarda Gradišnik, visited the Joint Analysis and Lessons Learned Centre ( JALLC) in Monsanto, Lisbon Portugal.
Ambassador Gradišnik was welcomed by the JALLC Commander, Brigadier General Peter Sonneby. After a courtesy call with Commander JALLC, the Ambassador was briefed on where the JALLC fits within Allied Command Transformation, then on the role, capabilities and activities of the JALLC. Of special interest to Ambassador Gradišnik were the future changes to the NATO Command Structure.
Afterwards, Ambassador Gradišnik signed the JALLC Book of Honour and expressed her appreciation for a fruitful visit and learning experience.
---