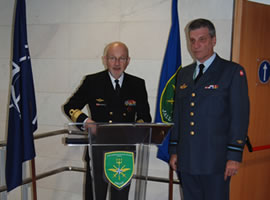 Rear Admiral Jørgen Breggrav, the Norwegian National Military Representative to SHAPE, visited the Joint Analysis and Lessons Learned Centre in Lisbon, Portugal on Monday, 10 January.
After a welcome by the Commander, Brigadier General Peter Sonneby, RAdm Berggrav was briefed on the role and capabilities of the JALLC and areas of common interest between the JALLC, the two supreme allied commands and the nations. This was his first visit to the JALLC and RAdm Berggrav expressed particular interest in the Lessons Learned process, the importance of sharing information and the benefit from implementation of lessons.
Radm Berggrav expressed his appreciation for the visit and concluded by signing the JALLC "Book of Honour".
---