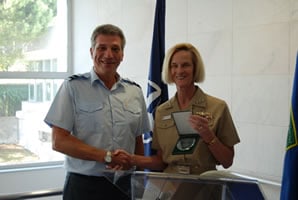 On Wednesday 20 October, Allied Command Transformation Deputy Chief of Staff for Capability Development, Vice Admiral Carol M. Pottenger, visited the Joint Analysis and Lessons Learned Centre (JALLC) and Joint Force Command Lisbon, Portugal.

Vice Admiral Pottenger began at the JALLC with a warm welcome by the JALLC Commander, Brigadier General Peter Sonneby. After introductions, she was updated on JALLC's current activities and objectives. She delivered an insightful brief to JALLC's staff regarding the future of ACT and fielded several astute questions from the audience. She expressed her appreciation for the productivity and determination of the JALLC's staff in providing beneficial analyses and maintaining an excellent reputation within NATO. She concluded her visit by signing the JALLC Book of Honour.

After visiting JALLC, Vice Admiral Pottenger travelled to Joint Force Command Lisbon and met with the Commander, Lieutenant General Philippe Stolz and the Deputy Commander, Lieutenant General Manuel Mestre Barea. She discussed Operation "OCEAN SHEILD", NATO's anti-piracy effort, and future prospects for the NATO Force Structure.
---