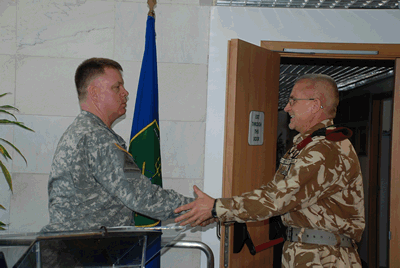 On 12 November 2013, the Director of the Joint and Coalition Operational Analysis ( JCOA), Colonel Thimothy Renshaw, accompanied by Mr. Al Musgrave, visited the Joint Analysis and Lessons Learned Centre upon their request to be briefed by the JALLC Commander, Colonel Mircea Mîndrescu and his staff on its organization, mission and current projects and to establish a more firm connection between the two organizations and to intensify mutual support and cooperation.
During the visit, note pool topics were discussed: cyber-defence projects, training of the personnel and information sharing between both organizations. Colonel Mîndrescu and Colonel Renshaw agreed to meet each other on a regular basis in the future and look forward to opportunities for common projects.
The visit ended with the traditional signature of the Book of Honour.
---