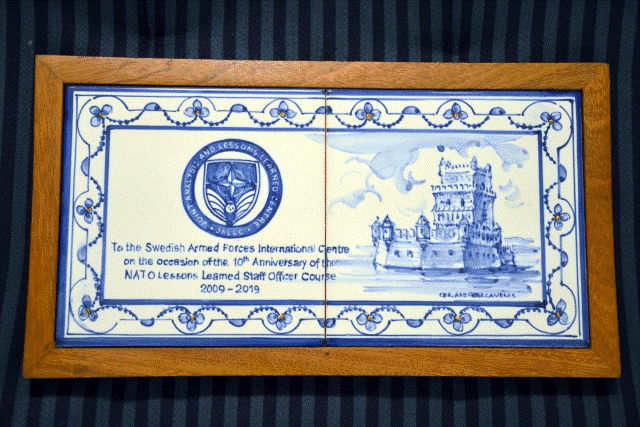 In June 2019, NATO's Joint Analysis Lessons Learned Centre (JALLC) and the Swedish Armed Forces International Centre (SWEDINT), celebrated the 10th Anniversary of the NATO Lessons Learned Staff Officer Course (LLSOC) in Stockholm, Sweden.
For this special edition of the LLSOC, Course Director, JALLC's LTC Rigo Genz, was joined by seven instructors/staff members who helped facilitate the course; two of whom were part of the first edition of the LLSOC back in May of 2009: Mr Andrew Eden from the Joint Warfare Centre (JWC) (a former contractor working for the JALLC) and Ms. Christine Kurzeja from the SWEDINT staff. During the course, LTC Genz, on behalf of Commander JALLC, handed over a JALLC plaque to the new SWEDINT Commander, Colonel Ronnie Nilsson, as a token of the JALLC's appreciation for 10 years of continued support to the success of the LLSOC.
The LLSOC has been NATO's premier course in training Lessons Learned staff officers and points of contact these last 10 years. During this successful decade of training, the JALLC has managed the course curriculum and SWEDINT has magnificently hosted the course in Sweden. The course focuses on the implementation of the NATO's Lessons Learned Capability, covering the NATO Lessons Learned Process, relevant analysis techniques, how Lessons Learned work in operations and during training and exercises, and LL Practitioner Information.
This recent edition of the LLSOC received 36 students from 17 NATO Nations and four Non-NATO NATIONS from Australia, Austria, Finland, and the Ukraine.
The feedback from these students was that the course was well-received, as always, with an overall 97% student satisfaction. The students felt the content was well-presented with a good balance of briefs and practical exercises. The JALLC and SWEDINT will, as usual, continue to refine and improve the course curriculum based on all of the student feedback. Here's to another 10 years of excellence in the LLSOC.
---