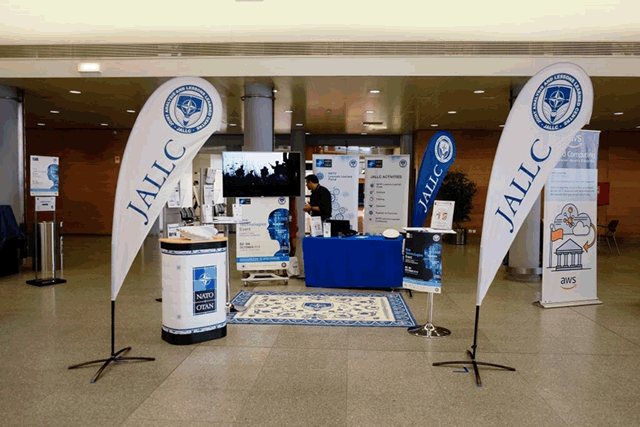 This year the JALLC is once again hosting an annual get together for the NATO Lessons Learned (LL) Community. The NATO LL Conference (NLLC) 2019, which will be held from 14 to 16 October, will combine the traditional NLLC concept—which focusses on a theme of relevance to the NATO LL-Community—with the NATO New Technologies Event (NTE) concept—which was launched successfully last year, and which provides a forum to present and discuss New Technologies in the context of LL.
During the first two and a half days of the event, Attendees will receive briefings and presentations on the main conference theme of: Improving the NATO LL Capability in order to enhance NATO's warfighting capability. This theme is right at the heart of what the JALLC does in terms of Lessons Learned and includes presentations on related topics from JALLC staff as well as from prominent guest speakers. The conference format also provides an opportunity for group discussion and audience interaction and will be another interesting edition of this revered event in the NATO LL Calendar.
The last afternoon of the NLLC is given over to New Technologies in the LL Context and follows on from the NTE in 2018. Attendees to this last afternoon of the NLLC will be focussing on insights and best practices relevant for the development of a new LL Toolset. Again, attendees will be briefed by subject matter experts from the JALLC, the wider NATO structure, as well as from Non-NATO Entities. Attendees will have also the opportunity to share their ideas and contribute their requirements for a future NATO LL Toolset.
The NLLC 2019 will be held at Nova School of Business & Economics (Nova SBE) in Carcavelos. Sat sweetly in between Lisbon and the beautiful coastal town Cascais, Nova SBE was recently inaugurated and boasts some impressive facilities and a fantastic location for the NLLC 2019. You can find out more about NOVA SBE here: https://www2.novasbe.unl.pt/en/about-us/nova-sbe-at-a-glance.
You can sign up to the NLLC via the NATO Lessons Learned Portal where you can find more information about the event.
---