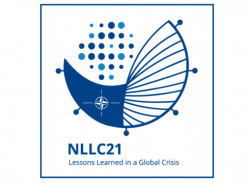 We are six weeks away from the 16th NATO Lessons Learned Conference (NLLC), the first online edition, and we are proud to present the NLLC21 Poster and Logo. The event logo represents NATO's ability to adapt and learn from the challenges of the COVID-19 pandemic, which is the theme for this year's event: "NATO Lessons Learned in a global crisis: what did we learn and how can we do better?"
Hosting the NLLC21 demonstrates the central idea of the event: that despite the challenges, we have been able to adapt and to learn. That's why this event comes to you from Lisbon, Portugal via our NLLC21 online platform, which will be live and ready to explore by mid-February ahead of the Conference in March. The platform will have a variety of features to be as informative and interactive as possible. The event agenda, read ahead materials, speaker bios, news updates, and a place to network and interact with fellow Conference attendees will all be at your fingertips from wherever and whenever you log in.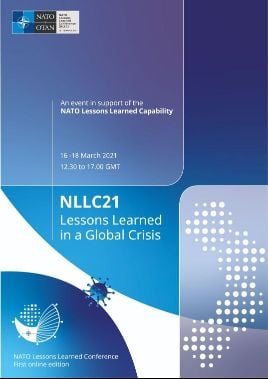 We're looking forward to sharing all the valuable COVID-19 related Lessons Learned information acquired over the past year and how NATO deals with global crises in the planned panel discussions and from our guest speakers from across the Alliance and Lessons Learned Community. We're sure you are too, so keep your eyes out here for more updates on the NLLC21.
---