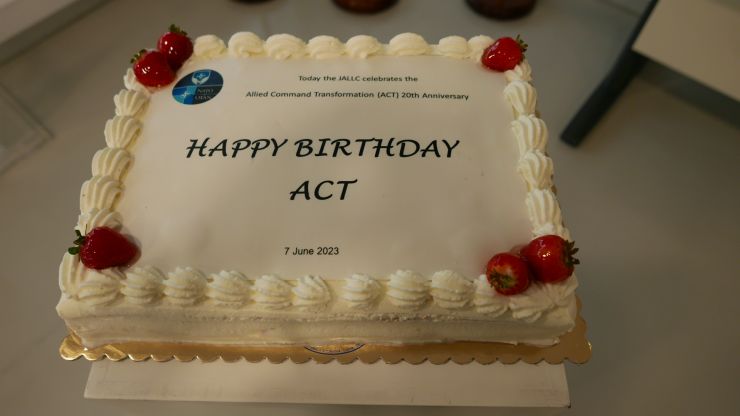 Today the JALLC celebrated Allied Command Transformation's 20th Anniversary with a special Birthday Cake and a toast to the next 20 years.
The JALLC forms part of Allied Command Transformation (ACT) together our superior HQ Supreme Allied Commander Transformation (SACT), in the USA, and with our two sister HQs: The Joint Warfare Centre, in Norway, and the Joint Force Training Centre, in Poland. ACT is one of NATO's two strategic commands and its mission is to contribute to preserving the peace, security and territorial integrity of Alliance member states by leading the warfare development of military structures, forces, capabilities and doctrines. From its inception in 2003, Allied Command Transformation has demonstrated the importance placed by NATO Nations on the roles of transformation and development as continuous and essential drivers for change – drivers of change that will ensure the relevance of the Alliance in a rapidly evolving and complex global security environment.
For 20 years, Allied Command Transformation has improved military effectiveness and interoperability throughout the Alliance, anticipating security needs, designing capabilities, and educating talents to maintain and refine NATO's edge. Highlights include the NATO Defence Planning Process, the NATO Warfighting Capstone Concept, and the , all of which are part of Allied Command Transformation's deliverables to the Alliance.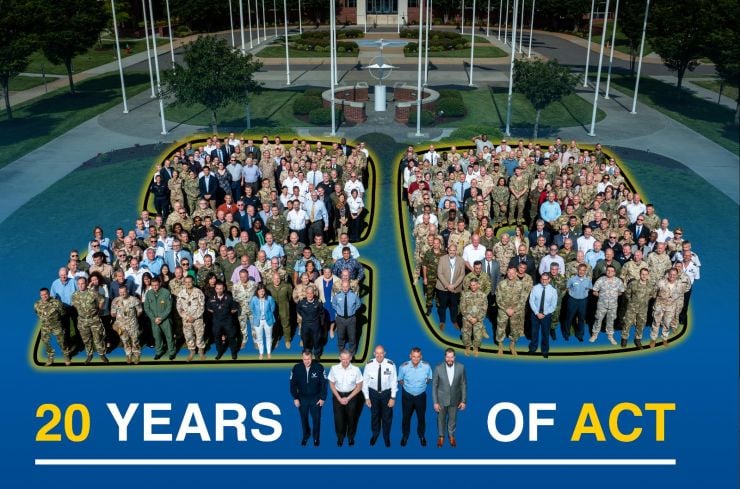 The JALLC is proud to have been part of ACT since its inception. Our contribution to the ACT mission through our key activities helps drive NATO's warfare development and supports ACT-wide activities.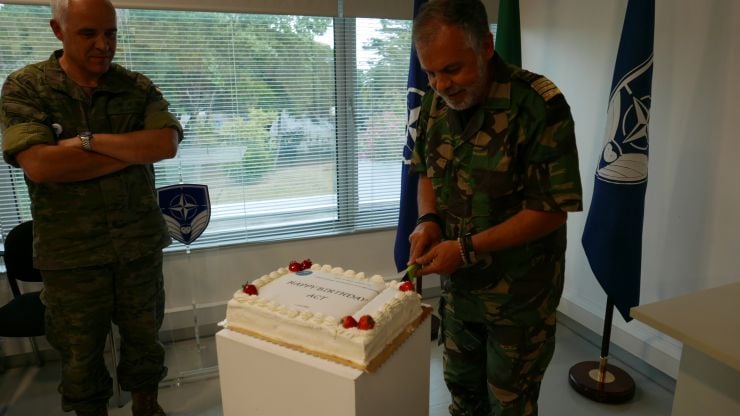 The JALLC's Commander is at HQ SACT in the USA for the formal celebrations which will include a tree planting ceremony to commemorate the 20 years of ACT. With the Commander away, it fell to the JALLC's Chief of Staff to lead the JALLC's celebrations today. Noting the importance of ACT and its achievements over the past 20 years and looking to the future of ACT together with JALLC, highlighting the work currently being undertaken to continuously improve the NATO Lessons Learned Portal and develop a new Lessons Learned tool for NATO in the future.
The JALLC's staff then raised their glasses to wish ACT a very Happy Birthday.
You can find out more about ACT and its history on our dedicated ACT Anniversary Page here.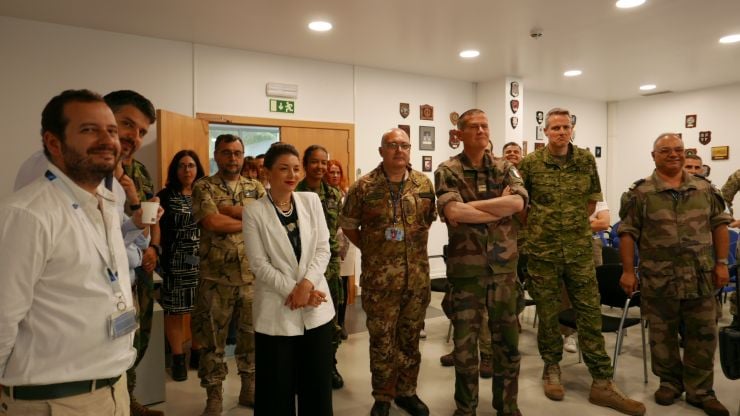 ---