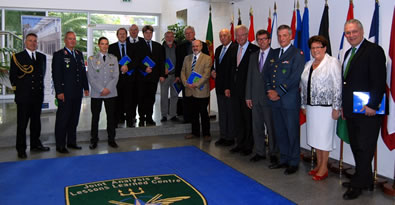 On 27 October 2012 a delegation of the Parliament of the German Federal State of Bavaria visited the JALLC. Commander JALLC, Brigadier General Peter Sonneby and Colonel Nickel, Senior National Representative and Branch Head Operations Branch, welcomed the distinguished visitors, especially the President of the Parliament of Bavaria, Mrs. Stamm, Interior Minister of Bavaria, Mr. Herrman, Chairman of the Parliamentary Group, Mr. Schmid and Minister of State Mr. Kreuzer.
The delegation was informed by the Commander JALLC about the situation of NATO forces in Portugal and the task and responsibilities of the JALLC. Colonel Nickel gave an insight on recent and current analysis projects. The visitors were impressed by the variety of analysis projects the JALLC is conducting. Especially the Medical Health Care project generated many questions, as this project is also related to the Comprehensive Approach which is an important issue in Germany. Also the Project on "Impact of Public Diplomacy in NATO" raised the attention of the visitors. The audience was very interested to learn more about this unique project.
At the end of the visit, the head of delegation, Mr. Schmid, thanked Brigadier General Sonneby for the comprehensive briefing and the hospitality. The visit concluded with signing of the JALLC Book of Honour and a group picture.
---