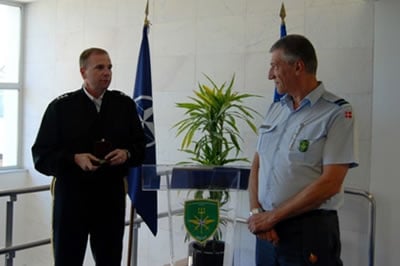 The Allied Land Commander, in Izmir (Turkey), Lieutenant-General Frederick Ben Hodges, visited the Joint Analysis and Lessons Learned Centre in Lisbon, Portugal on Friday, 31 May 2013.
After an initial office call with JALLC Commander, Lieutenant-General Hodges was provided a tailored briefing on JALLC's Programme of Work and activities, ongoing Projects, internal structure and processes. The Allied Land Commander expressed particular interest in the JALLC activities and Projects related with NRFs and ISAF.
After this briefing, Lieutenant-General Hodges addressed to all JALLC women and men, providing a short tailored briefing on the Land Command mission and activities. To finish, Allied Land Commander expressed his appreciation for the visit and concluded by signing the JALLC "Book of Honour" .
---