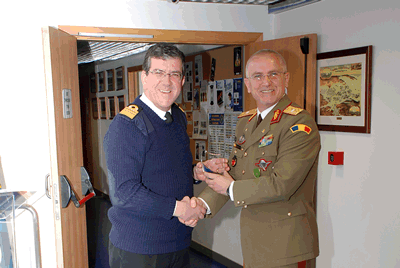 On 5 February 2014, the Commander of Allied Maritime Command ( MARCOM), Vice Admiral Peter Hudson, accompanied by his Naval Assistant, Major Oliver Todd, visited the Joint Analysis and Lessons Learned Centre upon his request to be briefed by the JALLC Commander, Brigadier-General Mircea Mîndrescu, together with Chief of Staff, Colonel Jorge Gomes and the JALLC Division and Branch Heads.
Vice Admiral Hudson was provided a tailored briefing on the JALLC's role within NATO, the current and on-going activities, the JALLC Programme of Work and the Lessons Learned Process. During this presentation, there were a lot of issues discussed, with emphasis to the cooperation and information sharing between MARCOM and the JALLC.
After this generic presentation, Vice Admiral Hudson was then provided a specific briefing on the current Maritime Project, requested precisely by MARCOM. The Project Manager, Lieutenant-Commander André Thouvenel, JALLC Military Analyst, briefed Vice Admiral Hudson on the Project Approach, the Data Collection, the Early Thoughts and the Capability Gaps, the Challenges and the Project Timelines.
The visit was concluded by signing the Book of Honour and gifts exchanging, followed by a lunch in the Portuguese Air Force Monsanto Mess .
---