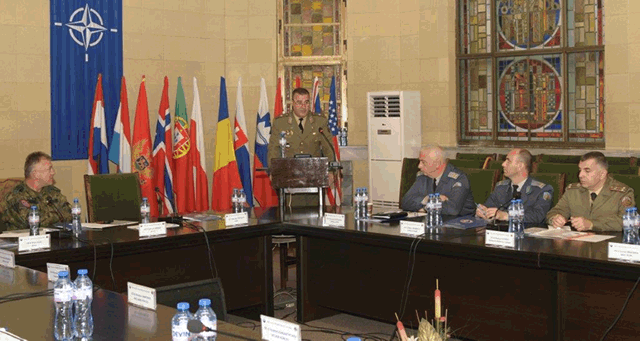 The Joint Analysis and Lessons Learned Centre (JALLC) Advisory Training Team (JATT) conducted a three-day Lessons learned (LL) training course from 09 to 11 April 2019 in support of 30 students belonging to the Bulgarian Defence Forces, NATO Force Structure (NFS), and NATO Organizations and Agencies.
The Bulgarian Defence Forces' students came from nine different locations including the Defence Staff, and staff from the Navy, Army, and Air Force. NATO Force Structure students came from the Multinational Division Southeast and Multinational Brigade Southeast (Romania), NATO Force Integration Units (Bulgaria and Hungary), and the Crisis Management and Disaster Response Centre of Excellence (Bulgaria).
NATO Force Integration Units (NFIUs) are part of the NFS. They are under the responsibility of the Supreme Allied Commander Europe (SACEUR) and they are part of NATO's adaptation in the face of security challenges from the East and South. A total of six NFIUs (Bulgaria, Estonia, Latvia, Lithuania, Poland and Romania) were officially declared full operational capability on September 2015.
The specifically tailored LL training was designed to provide an overview of the NATO LL Capability, the analysis techniques, real life examples, practical work, success stories, and the challenges of working with a LL management system. The LL training was well received by all students and the NFIU leadership.
---