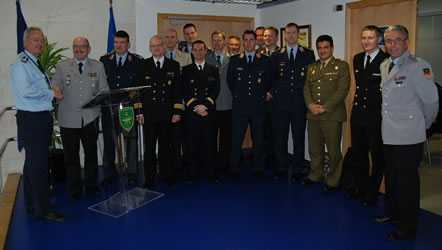 The overall purpose of this visit was to gain a perspective on the influencing factors of the external security and defense policy in Portugal, the command organisation of the Portuguese Armed Forces and NATO's transformation process. Taking advantage of this visit to Portugal the 11 students from Germany, France, Netherlands and Spain visited the JALLC to become familiar with the activities and organisation of the JALLC.
The course was welcomed by the Division Head Operations Division and JALLC German Senior National Representative, Colonel (GS) Karlheinz NICKEL. After a short introduction to the JALLC mission and structure, the students were presented with first hand information about recently finished and ongoing projects by the respective project managers. The students seized the opportunity to get information right down to the last detail.
At the end of the visit, the head of delegation Colonel (GS) KRAUSE, expressed his thanks for the comprehensive program and the hospitality to the JALLC team and he underlined the benefit for the students in understanding the important role of the JALLC in supporting NATO's Lessons Learned process and providing joint analysis products to NATO decision makers.
---